Welcome To The
Mayeda Family Home Page

You can reach the following family members by e-mail:
Kay Mayeda
or check out where dad used to work: Lawrence Livermore National Laboratory
Paul Mayeda, M.D.
Roy Mayeda
Bill Barr
or check-out Bill's employer: SAIC, Inc.
Mary Barr
or check-out Mary's employer: San Diego City Schools
Dwight Mayeda
or check-out Dwight's employer: Stream International
Ruth Markenson
or check-out Ruth's employer: Xilinx

Annie Koyama
Barbara Koyama
Tom Koyama
Andy Motozaki, Esq.

If we have missed a member of the clan who is on-line, please let us know.
Current Mayeda contributions:
Father's Day - June 16, 1996
Ever since I wrote the tribute to my mother for Mother's Day, I have been thinking about what to do for Father's Day. There was never anything that we got for Dad every year like Mom's orchid corsage. Something that has always stood out, though, is that family is very important to him. Even after a long day at work, he was always there to help with homework, play a game, or read a book, no matter how tired he was. His family always came first.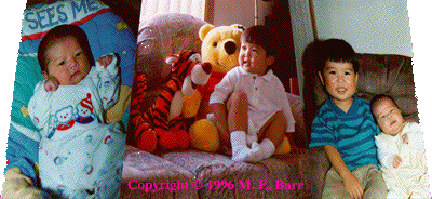 The two newest additions to the family are Daniel (3 years) and Lauren (8 months), my brother's children. They are the reason Dad bought a camcorder. The photo on the left is newborn Daniel. The middle is Daniel at age 2. The photo on the right was taken shortly after Lauren's birth.
---
Mother's Day - May 12, 1996
On this Mother's Day in 1996, I would like to express my gratitude to my mother, Eleanor Tsuneko Mayeda. She is a woman who has a servant's heart, always sacrificing her own comforts and desires for her family. She is a wise woman, ready to give wise advice to those who request it. She is a woman after God's own heart, and has brought up her children with Christian beliefs and values. She is also the perfect companion for my father, who deserves recognition as well (but that is for another day).
My mother will be receiving a hard copy of the accompanying picture (she is not on-line) that I created for her out of five separate photographs. These orchids were blooming at the Wild Animal Park in San Diego, California the first week of April. Orchids are one of my mother's favorite flowers and my father always gives her a corsage of orchids every Mother's Day. Although I now live five hundred miles away from my parents, I wanted to send her some orchids this Mother's Day.
To all of the mothers out there in cyberspace,

Happy Mother's Day!
Send comments to: me@buddies.org

Back to Mary's Web Pages
Web-Counter indicates
visits since January 96.